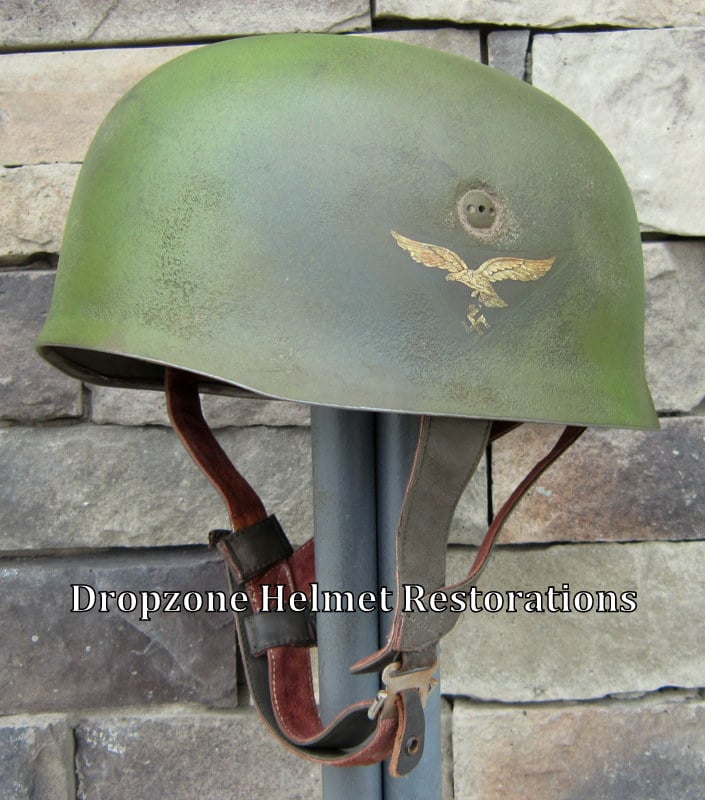 WWII German M-1938 FJ Helmet & Liner M38 Fallschirmjäger Camo Pattern SD
---
Offered for sale is one Replica German M-38 Paratrooper (Fallschirmjäger) Helmet & Liner set. Features an 18 gauge steel shell, aluminum band with real leather for the liner, accurate maker mark stamps. The shell has an inspection stamp on the crown. Stamped ET71 & 2175 inside the shell. This helmet has been heavily aged inside & out for a heavy "combat Worn" appearance.
Liner is roughly a size 60 or size 7-1/2. My head measures 23-1/2 inches around and fits me just fine. ***If you wear a 59 this should you just fine as well.***
This M38 features a light dirt/sand texture applied over the original dark-field grey-green finish, plus a 2-tone Camouflage pattern of light & dark Greens with a Single Luftwaffe decal on the left hand side.
Nice repro leather chinstraps that feature the proper formed hardware (Buckle & snaps).
PAYMENTS: I accept PAYPAL Shipping in the USA is $14.95 and Actual Airmail for Overseas, No hidden fee's, I ALWAYS combine shipping, please ask for quotes. Any and all questions, Please ask before the auction ends. Shipping to Canada USPS is around $48.00
If you need more pictures please ask me. My email is: m1chelmet@yahoo.com
Sold Out